About Our Dentist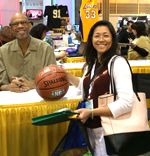 Dr. Monique Nguyen
Dr. Monique Nguyen's dental practice is located in Mt. Vernon, Virginia, working to provide an excellent dentistry. This single dentist practice is dedicated to provide customize dental services in a friendly, prompt, comfortable and clean environment.
Dr. Monique Nguyen has been in Mt. Vernon, Virginia location since 1998. Before this location she was associated with Dr. Roland Drum and Dr. Gopal Pal for another 9 years, giving her the expertise and knowledge to treat patients with care and respect. Call today for an appointment at 703-780-3482.
Education
Dr. Monique Nguyen received her degree in dentistry at the Dental School of Medical College of Virginia in Richmond, Virginia in 1988. Completed 224 hours of continuing education in a two years program of study of Orthodontics/Orthopedics in 1997. She fulfills Virginia's continuing education requirement annually.
Affiliations
American Dental Association
Virginia Dental Association
Northern Virginia Dental Association
Alexandria Dental Association